The American tradition of Halloween has never really done much for me. When I was a kid we half-heartedly celebrated with last-minute drug store costumes and trick-or-treating. No one year stood out as being spectacular, really. Mostly I think we trudged around braving the pre-winter elements just to get candy we got at home fairly regularly anyway. That is my perspective as an adult. I'm sure when I was a kid I got all sugar-crazed and into it, I just don't recall.
I didn't carve a pumpkin until I was 23 and I still really suck at it. You would think I would be pretty good at it since I am a makeup artist and a pumpkin has the same rounded surface as a face. But then again I don't usually take chunks out of women's skin as I'm doing their makeup so never mind.
This year I didn't even bother carving any pumpkins, choosing instead to roast two of them and make two of the tastiest pies I've ever had. I thought I didn't like pie, but after my first foray into from-scratch pies with organic filling I realize I do, just not crappy store-bought ones.
I did decorate the porch a bit--my
Eco-Skeleton
is hanging proudly, glowing in the moonlight. I'm not a complete grinch, of course I took my boys trick-or-treating but with their tooth issues and a diabetic Papa (who was diagnosed shortly after Halloween at age 10) I feel more than a little nervous about giving them very much candy. Tomorrow I'm going to broach the idea of the "Candy Witch" who needs their candy to survive and will trade them the toy of their choice in exchange for it. Or something along those lines.
I'm much more interested in the spiritual celebration that occurs on the two days directly following Halloween:
Dia De Las Muertos
or Day of the Dead. Tomorrow, November 1 is All Saint's Day and most regions of Mexico the day is spent honoring children who have died and is referred to as "Día de los Inocentes" (Day of the Innocents) but also as "Día de los Angelitos" (Day of the Little Angels)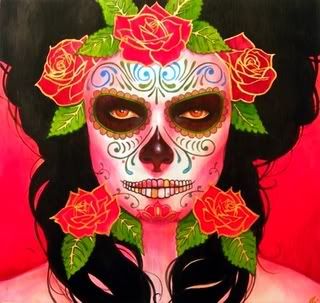 November 2 is referred to as November 2nd as "Día de los Muertos" or "Día de los Difuntos" (Day of the Dead) and honors adults who have passed on.
Check out this month's Cut Out & Keep Snippets magazine where I speak
with the Crafty Chica
a little bit about how she and her family celebrate.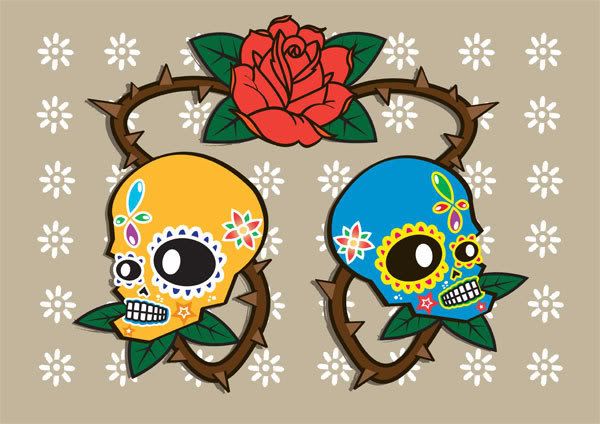 I have lost some people very close to me: my grandmother on my mom's side (who was a twin) my grandfather on my dad's side (who loved Patsy Cline) my dear friend Anthony, recently my favorite great-uncle, my young cousin Hollie and my father, who I miss every single day.
My dad was a student of Eastern religions including Hinduism which has some similar imagery
(Kali)
to the Catholic celebrations of Dias de los Muertos. I would much rather spend the beginning of the cold season by honoring and remembering those I have lost and fortifying and preparing for the shorter days ahead than gorging on crappy candy that I never buy and don't want my kids to eat.
And there is something in me that can't see a tiny Heath bar or Almond Joy and pass it by. I guess the upside is that it's once a year, but that's a dubious rationalization.

I'm not saying it can't be fun, I know many people who live for Halloween. I guess I'm just not one of them. But I do want to build traditions with my family that are special and meaningful and I do hope that the respect for death and celebration of life of Dias de los Muertos is in there somewhere.
Oh, and don't forget to set your clock ahead on November 2nd! (But not you, Crafty Chica! You're in Arizona!) Yay, I love gaining an hour.
I hope this didn't come across as bitter, I was just reminiscing after the obligatory trot around our neighborhood in search for cool lawn decorations and candy. (I actually did have a lot of fun this year, though)
I hope everyone had/is having a great holiday! I'll post pictures of the boys trick-or-treating later! And I'd love to hear how you and your family celebrate!